Ryo Jounouchi is one of the yanderes for Hazuki/Hatsuka in Starstruck Love.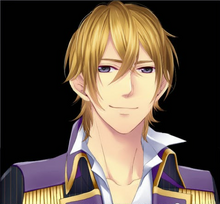 Background
Edit
He used to live next to Hatsuka when they were younger. He would notice that she would spend a lot of time with his younger brother, Toma. At some point, she stopped coming over. At some point, he and his brothers formed a band, which became a huge success. When Hatsuka's parents die, he becomes one of her adoptive brothers.
Yandere Traits
Edit
Ryo expresses a great deal of jealousy towards any guy that comes near Hatsuka. He's also possessive of her, willing to mark her so that other guys know that she's taken already.